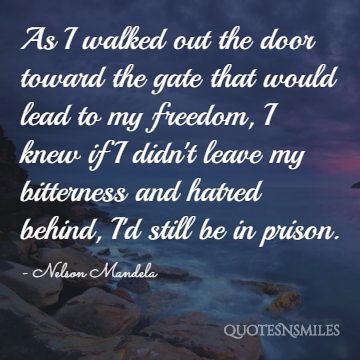 February, 1990. I was eight years old, and I was watching The Wizard of Oz.
My mom came into the room and said, "It's a great day! Nelson Mandela is out of prison!"
I can't remember exactly what I thought next, but I imagine I shoved a handful of popcorn in my mouth before asking, "Who is he?"
I was likely thinking, Why do I care? and, Is this important enough to stop watching the green lady with the insane monkeys?
So, Mom told me a censored and condensed version of apartheid, and said Nelson Mandela was an innocent man, and everyone was quite happy he was out of prison.
Since, I've been to Robben Island. I drank beer in Soweto, toured the District Six museum (to date, the best museum I've been to, mostly for emotional reasons because the Smithsonians and the Tate Modern and Louvre are definitely 'better' in their own ways, but not as engaging for me). I rode by Nelson Mandela's house, when he was alive and actually inside, and waved.
South Africa was an experience that I kinda shoved under the table, once it was over. It's not a very happy place. There is natural beauty, and there are obviously beautiful people, and there is a sort of kindness and camaraderie that I haven't seen since…Camaraderie among citizens of a nation which doesn't have a lot of hope. There were small slivers of hope, but nothing big, nothing too impressive.
With the exception of Nelson Mandela. I'm sad to see him go, but he sure left a magnificent legacy behind.
South African history is one of the most interesting and horrifying accounts of the capacity for human cruelty. And the saddest part of it all is that it's not just history–it's now, in forms of racism and women's rights, specifically regarding rape and AIDS.
A whole lotta money from the Global Fund goes toward helping the plight of South Africans: Donate Today.
Rest in peace, Nelson Mandela.
xoxo
Sadey